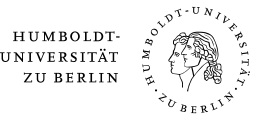 English Language Education | ELT
Contact:
Humboldt-Universität zu Berlin
Sprach- und literaturwissenschaftliche Fakultät
Institut für Anglistik und Amerikanistik
Fachdidaktik Englisch
Unter den Linden 6
10099 Berlin
Visitors:
Ms Regine Schlösser (secretary)
Room: 3011 (University Main Building, East-Wing, 2nd floor)
Office hours: Mo-Fri 10-12
Tel.: +49 30 2093-2743
---
Please use the left-hand navigation bar to work your way through our web site. If you encounter any problems on these pages, don't hesitate to contact our webmasters.