Welcome Désirée Kriesch and Marco Riedel

We are happy to welcome Désirée Kriesch, Marco Riedel and Dana Steglich to the institute of English Studies.
---
Désirée Kriesch is a lecturer at the Department of English Studies. She studied British and American Studies as well as Geography at the Humboldt University of Berlin. She received her PhD in English literature at Siegen University in 2013. She worked as a university assistant at the English Department of Innsbruck University and taught English and Film Studies at the universities of Klagenfurt and Siegen.
Her fields of interest include visual culture, intermediality, (film) narratology and cultural products designated as pornographic.
 
---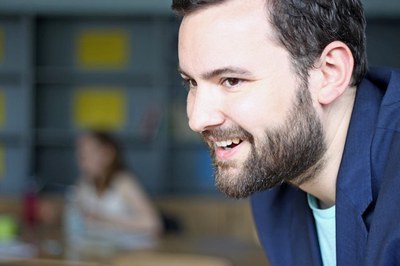 My name is Marco Riedel and I am both a literary scholar and a teacher. Before taking on a teaching position at a private comprehensive school in 2014, I had been a student of Latin, German and English literatures at Humboldt-University since 2006. During the last five years of my enrollment, I was also employed as a research assistant at the Department of English and American Studies and as a tutor in the MA program European Literatures. I am now beginning to work on my dissertation and am looking forward to returning to my alma mater in a teaching capacity. Both of my academic theses so far have dealt with 20th-century poetry and undoubtedly poetry in general has always been the focus of my literary interest.  Besides literature, I also cherish keen passions for politics and pocket squares.
---
As of November 2015 Dana Steglich is a new face in the English department. She studied Comparative Literature as well as Communication and Journalism (B.A.) at Freie Universität Berlin and European Literatures (M.A.) at Humboldt-Universität - both with a strong focus on British literature. During the course of her studies she worked part time for a literary agency and got to know the other side of literature through working with authors and publishing houses. She is now looking forward to taking on the other side of university through teaching and preparing for her dissertation at the same time.