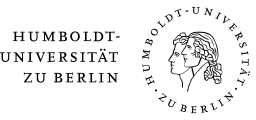 News
NEWS
---
A message from our FSI
Dear AnglAms,
We hope to find you in good health and better spirits in these challenging times!
Even though the digitalisation of most of our seminars has granted us insights into academic subjects as well as our fellow students' apartments, it cannot be denied that there's still something missing - the sometimes lively, sometimes more sober exchange with your peers in the cafeteria, the café ct at UL6 or maybe even just on your way to the next lecture.
In order to make up for these unfavourable conditions at least a bit, we encourage you to join the AnglAm HU Discord-Server. Here you can find people to join your study groups and exchange ideas with you over voice chat, and share your confusion as well as your ideas and knowledge with other AnglAms.
Last but not least, we'd like to remind you of the even brighter side of life - our Discord-Server also offers less formal, exciting digital activities: We will be digitalising our game nights; and thanks to our excessive nerdhood, we will be keeping you inspired and happy with our popcultural recommendations from the Anglophone sphere - while also providing a channel in which we can enjoy said recommendations together.
Best wishes,
Your FSI AnglAm
Please write an E-Mail to the FSI to join the AnglAm HU Discord-Server. Out of privacy and security reasons the link will not be posted here.
---
Call for Papers
for this workshop happening at HU Berlin on 14/15 January 2021
The Role of the Current Speaker in Conversational Turn Taking – Theoretical, Experimental, and Corpus Linguistic Perspectives on Speaker Contributions to Aligned Turn-Timing
Deadline for submissions: 31 July 2020
---
CORONA-VIRUS-UPDATES
Wir bitten um Ihr Verständnis, dass die Mitarbeiter*innen des Instituts (einschl. Sekretariate) bis auf Weiteres i.d.R. nur per E-Mail kontaktiert werden können (um eine Überlastung der Kommunikationskanäle zu vermeiden, prüfen Sie bitte zunächst, ob Ihr Anlieben bereits auf unserer Corona-Webseite und den dort verlinkten Seiten des Prüfungsbüros bzw. der allgemeinen Corona F.A.Q. der Universität beantwortet wird). Es finden keine Kontaktsprechstunden statt. Alle Gebäude der HU sind bis auf Weiteres geschlossen.
Es finden bis auf Weiteres keine öffentlichen Veranstaltungen statt.
Aktuelle informationen finden sich hier.
Please note that all members of the department (incl. secretaries) currently can only be reached via email (before contacting individual staff, please consult our Corona-website and the linked pages of the Prüfungsbüro as well as the university Corona F.A.Q. that should already address many concerns). There are no regular office hours. All HU buildings are closed until further notice.
All public events are cancelled for now.
More information here.
---