---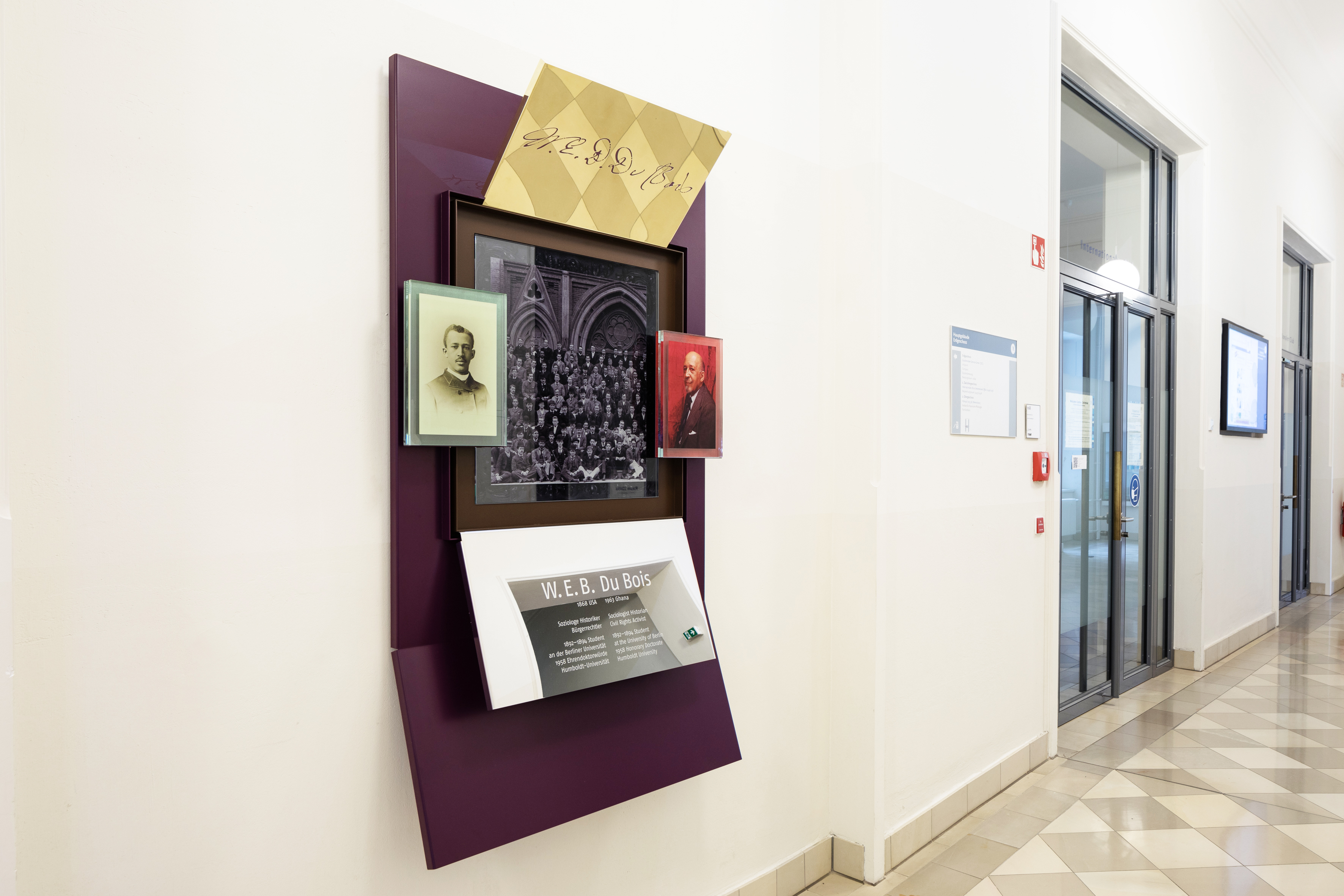 July 1, 2022
7:00 PM
Senatssaal
Unter den Linden 6, 10117 Berlin

Speakers:
Prof. Dr. Peter Frensch, President of Humboldt University (Interimspräsident)
Izaak Martin, Deputy Cultural Attache, US Embassy Berlin
Jean-Ulrick Désert, artist
David Levering Lewis, Du Bois biographer
Arthur McFarlane, Du Bois's great-grandson (via videostream)
Naa Ajele Sharp, W.E.B. Du Bois Centre, Accra, Ghana (via videostream)
Vivian Fogain, Initiative Schwarze Menschen in Deutschland ISD
Members of the Black Student Union at HU
Speaker from EOTO (requested)
Performance by Maroula Blades
Reception
---
Seminar invitation
Queer Temporalities: Between Utopia and Negativity
The Literaturforum im Brecht Haus Berlin kindly invites you to a short-seminar on "Queer Temporalities: Between Utopia and Negativity" taught by Dennis Ohm (PhD candidate in Medical Anthropology, McGill University, Montreal). This is the first time we host a seminar taught entirely in english, which is why we specifically encourage you to participate.
"Walter Benjamin suggests that it is our very understanding and affective relation to a progressive, continuous, and linear notion of time that solidifies and reproduces it. Since its advent, queer theory has asked how heteronormativity relies on linear notions of time and how they enforce normative configurations of the family, which are crucial for capitalist relations of (re)production. How can alternative relations to past, present, and future unsettle such progressive temporalities and what Lee Edelman has called "reproductive futurism"?
In this seminar, we will navigate through different approaches to queer time by reading canonical texts in queer theory by José Esteban Muñoz, Lee Edelman, Lauren Berlant, and Ann Cvetkovich, among others."
Queer Temporalities: Between Utopia and Negativity (in English)
Taught by Dennis Ohm (PhD candidate in Medical Anthropology, McGill University, Montreal)
Two sessions: 01.07 + 15.07 from 10 a.m. to 4 p.m.
Readings and discussions in English. Registrations via mail to campus@lfbrecht.de. The seminar will take place at Literaturforum im Brecht-Haus. The seminar ist part of the lfb school program. Free admission.
---
International Conference
Unsettling Archives
July 7th – 9th, 2022
Location: Senate Hall (Senatssaal), Main Building, Humboldt-Universität zu Berlin,
Unter den Linden 6, 10117 Berlin
---
8th ANNUAL WEIGHT STIGMA CONFERENCE
14–15 JULY, 2022, BERLIN, GERMANY
The Annual International Weight Stigma Conference is an inter-disciplinary event that brings together scholars and practitioners from a range of backgrounds (e.g., public health, government and public policy, psychology, medicine, sociology, anthropology, allied health professions, education, sports and exercise science, social sciences, media studies, business, law, activism, and the lay public) to consider research, policy, rhetoric, and practice around the issue of weight stigma.
This year's event is being hosted by Stephanie von Liebenstein of the German Association Against Weight Discrimination and Prof Evangelia Kindinger of Humboldt University, Berlin. This year's theme focuses on new research and theoretical contributions that center around weight stigma, law, and policy. We encourage abstracts that offer novel and fresh insights and/or address existing gaps and open questions about law and policy in the widest sense.
LOCATION
Senate Hall, Humboldt University,
Unter den Linden 6,
10117 Berlin,
Germany
---
July 20, 2022
Jessica Ullrich (Kunstakademie Münster)
"Aesthetic Practices of Attentiveness. Caring Beyond the Human in Contemporary Art"
6:30-8:00 p.m. (in-person lecture)
Humboldt-Universität zu Berlin, Dorotheenstr. 24, Room 1.501
In my talk I will discuss North American contemporary artistic practices within the framework of human-animal studies, speculative ethics of care, and entangled empathy.
After the so-called animal turn, non-human animals who are involved in artworks have increasingly been considered to be co-creators of art. Interspecies Art, in which they play an active role as co-producers of art, has become a legitimate new relational art genre. This development represents an important new phase in art history because it means that non-human animals are finally being taken seriously as social, cultural, and aesthetic actors. But the aesthetic agency, creativity, and resilience of non-human animals does not play a role in all current artworks inspired by the animal turn. There is also Interspecies Art that responds more to the dependency, disposability or suffering of non-human animals and that is deeply concerned with the well-being of specific animal individuals in need. Caring for non-human animals in art is then not only represented or mediated but also materialized and embodied in very practical ways.
BIO: Jessica Ullrich is professor for art history and aesthetics at the University of Fine Arts Muenster. She studied art history, fine arts and German literature in Frankfurt as well as arts administration in Berlin. She holds a PhD in art history and has been assistant professor at the University of Arts in Berlin and at the University Nuremberg-Erlangen as well as visiting professor at the University of Fine Arts Münster and lecturer at the universities of Frankfurt and Flensburg. Before that she has worked as research assistant at the Georg-Kolbe-Museum Berlin and as head of the education department and curator for education at Kunstpalais Erlangen. She curated art exhibitions and video screenings in Berlin, Utrecht, and Sao Paulo.
Jessica has edited exhibition catalogues and collections of essays, and publishes widely articles on modern and contemporary art and on human-animal relations in art. She is a founding member of several animal-studies research groups in the German speaking countries, for example Animals in History, FITT-Forschungsinitiative Tiertheorien, IRI-Individual Rights Initiative, and Animality and Aesthetics as well as member of EACAS (European Association for Critical Animal Studies) and CLAS (Cultural Literary Animal Studies).
---
Ringvorlesung
Dieses Semester findet donnerstags von 16-18h eine komparatistische Ringvorlesung zum Thema "Traum und Traumwissen im Gattungskontext" statt.
Alle Daten und Inhalte hier im Flyer/Plakat.
Die Vorlesung findet im Rahmen der Europäischen Literaturen statt, richtet sich aber auch an alle anderen potentiell interessierten Studierenden, Forschenden und Lehrenden unserer Fakultät.
Die Vorlesung ist als Präsenzveranstaltung konzipiert - wir arbeiten an einer Übertragungsmöglichkeit (vgl. Link auf dem Plakat), können aber (noch) keine technisch einwandfrei Qualität garantieren - kommen Sie also lieber vorbei!
Unter den Linden 6, 2014A
donnerstags von 16-18h
wöchentlich bis einschließlich 21.7.2022
---
Ringvorlesung:
Inklusion und Heterogenität im Fremdsprachenunterricht
Sommersemester 2022
Teilhabe und Diversität in der Migrationsgesellschaft
Prof. Dr. Aladin El-Mafaalani (Universität Osnabrück)
Dienstag, 3. Mai, 10 bis 12 Uhr

Children are Citizens!
Children's Rights Education, kulturelles Lernen und fremdsprachliche Bildung
Prof. Dr. Frauke Matz (Westfälische Wilhelms-Universität Münster)
Freitag, 3. Juni, 10 bis 12 Uhr

Personalisierung mit digitalen Medien im Fremdsprachenunterricht
Dr. Heike Schaumburg (Humboldt-Universität zu Berlin)
Dienstag, 28. Juni, 16 bis 18 Uhr

Fremdsprachenunterricht mit tauben und schwerhörigen Schüler*innen
Dr. Katharina Urbann (Humboldt-Universität zu Berlin)
Freitag, 15. Juli, 12 bis 14 Uhr

Die Ringvorlesung findet im Sommersemester 2022 als Videokonferenz statt.
Anmeldung bitte per E-Mail bis spätestens drei Tage vor dem genannten Termin bei einer der
Kontaktadressen. Teilnehmer*innen der fremdsprachendidaktischen Inklusionsseminare
erhalten die Zugangsdaten im Seminar.
Kontakte:
Dr. Anne Mihan
Institut für Anglistik und Amerikanistik
anne.mihan@hu-berlin.de
Nevena Stamenkovic
Institut für Romanistik
nevena.stamenkovic@hu-berlin.de
---