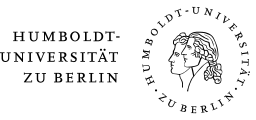 Upcoming Events
---
25 May 2021
Rebecca Racine Ramershoven (Folkwang University of the Arts Essen)
Artist Talk
"Watch Us: On the structural misrepresentation of the Black Body and the possibilities of resistance and liberation in the arts."
6.30 – 8.00 P.M. (CET)
Please register for this online-event: evangelia.kindinger@hu-berlin.de
[After your registration, you will receive the password to watch How much time do you want? on vimeo.]
Many facets and multilayered experiences, in all their simultaneity and complexity, are part of the Black Identity. I examine one aspect of this complexity in regard to representation and selfidentification in the works How much time do you want? (video, 21 min) and Resilience (photographs). In my talk I would like to present these two works, discuss their mutual effects and share the questions and challenges that accompany during the process of creation.
Bio: Rebecca Racine Ramershoven is currently graduating with a Master's degree in Photography Studies & Practice at Folkwang University of the Arts Essen. Her artistic interests focus on the artistic exploration and examination of socio- cultural themes and issues. Since 2014, her photographic work has been shown in national and international solo and group exhibitions. Most recently, Rebecca Racine Ramershoven participated in the 13th Conference of the Collegium for African American Research in Orlando/Florida (USA) and the Athens Photo Festival 2020 at the Benaki Museum in Athens/Greece. Her work How much time do you want? and Resilience is currently on exhibit at the Folkwang Museum Essen/Germany.
8 June 2021
Carrie Helms Tippen (Chatham University)
"Feeding Grief and Raising the Dead in Southern Cookbooks"
6.30 – 8.00 P.M. (CET)
Please register for this online-event: evangelia.kindinger@hu-berlin.de
Cookbooks for funeral foods make up an unexpected niche subset of Southern cookbooks. They provide instructions for feeding, behavior, and rituals of Southern funerals while promising delicious food and fellowship as a balm for suffering death in a community. In the US South, funerals become an opportunity to ritually perform a distinct and continuous regional identity that transcends both time and geography. The repetition of the same meals, "year after year," creates a feeling of collapsed time and continuity with a stable identity connected to a distinct Southern homeplace. I argue that Southern funerals may be unique to the South in practice because of an intentional and self-conscious attempt to craft a distinct and continuous place-based identity for the community of mourners, attached through kinship and friendship to a particular Southern homeplace. The food practices associated with Southern funerals are a tangible, if temporary, means of performing, embodying, and perpetuating a community identity. When cookbook writers share recipes connected to the funeral feast and the stories the accrue to the dishes served, they are essentially enacting the storytelling and communal aspects of the funeral without the occasion of a death. No pain must be endured to experience the joys of the locally-bound and communally-practiced traditions of Southern funerals, even if only experienced in the reader's imagination. The genre of the cookbook and its requirement for pleasure gives ample opportunity for writers to emphasize the many pleasures of cooking, eating, and imagining what is presented as a distinctly Southern experience.
Bio: Carrie Helms Tippen is Assistant Professor of English and Assistant Dean of the School of Arts, Science, and Business at Chatham University in Pittsburgh, PA.  Her 2018 book, Inventing Authenticity: How Cookbook Writers Redefine Southern Identity (University of Arkansas Press), examines the rhetorical strategies that writers use to prove the authenticity of their recipes in the narrative headnotes of contemporary cookbooks. Her academic work has been published in Gastronomica, Food and Foodways, Southern Quarterly, and Food, Culture, and Society. Carrie is a host of the podcast New Books in Food from the New Books Network.
22 June 2021
Max Paul Friedman (American University)
"Prelude to Castro: The United States vs. 'Spiritual Socialism' in Guatemala, 1944-1963"
6.30 – 8.00 P.M. (CET)
Please register for this online-event: evangelia.kindinger@hu-berlin.de
The United States brought the Cold War to Latin America by twice destroying Guatemalan experiments in social democracy launched by Juan José Arévalo, a professor of philosophy who described his approach to governance as "spiritual socialism." Ridiculed by US officials and overshadowed by the CIA coup of 1954 that overthrew his successor, Jacobo Árbenz, Arévalo has been largely forgotten by history, although he offered a Latin American "third way" for national development between the poles of extractive capitalism and revolutionary communism that shaped decades of violent conflict in the most unequal region in the world. This lecture connects Arévalo's political thought to his experience while in exile in Argentina of the krausista tradition inspired by the German philosopher Karl Christian Friedrich Krause, a contemporary (and rival) of Hegel's, who envisioned peaceful societies based on justice and harmony. It analyzes his writings and policy initiatives, which can be characterized by an effort to address Guatemala's extreme levels of poverty and inequality while preserving the dignity of the individual, largely by maintaining freedom of expression and emphasizing the role of public education. It also reveals the role of the United States in thwarting Arévalo's likely return to power in 1963 when another, forgotten coup d'état was authorized in secret by John F. Kennedy. The doppia morte of Arévalo's vision, twice blocked by U.S. covert action, helped snuff out the possibility of a Latin American alternative in the Cold War, radicalizing the Latin American Left, fueling the Cuban Revolution's repressive turn, and contributing to an era marked by shocking levels of violence in the Central American civil wars.
Bio: Max Paul Friedman is Professor of History and International Relations at American University in Washington. He holds a PhD from UC Berkeley and a BA from Oberlin College. He is the author of the prize-winning book Nazis and Good Neighbors: The United States Campaign against the Germans of Latin America in World War II (Cambridge University Press, 2003) and Rethinking Anti-Americanism: The History of an Exceptional Concept in American Foreign Relations (Cambridge University Press, 2012). He is co-editor of Partisan Histories: The Past in Contemporary Global Politics (Palgrave Macmillan, 2005) and the forthcoming Cambridge History of America and the World.