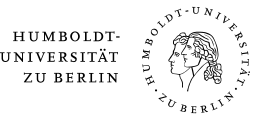 CORONA-VIRUS-UPDATES
Department of English and American Studies
---
Letztes Update: 19. Mai 2020 / Latest Update: May 19, 2020
---
Wir bitten um Ihr Verständnis, dass die Mitarbeiter*innen des Instituts (einschl. Sekretariate) bis auf Weiteres i.d.R. nur per E-Mail kontaktiert werden können (um eine Überlastung der Kommunikationskanäle zu vermeiden, prüfen Sie bitte zunächst, ob Ihr Anliegen bereits auf unserer Corona-Webseite und den dort verlinkten Seiten des Prüfungsbüros bzw. der allgemeinen Corona F.A.Q. der Universität beantwortet wird). Es finden keine Kontaktsprechstunden statt. Alle Gebäude der HU sind bis auf Weiteres geschlossen (außer Bibliotheken, welche für Ausleihe und Rückgabe bestimmte Vorkehrungen getroffen haben.).
Es finden bis auf Weiteres keine öffentlichen Veranstaltungen statt.
Bitte tragen Sie sich für Updates auch in den Institutsnewsletter ein und geben auf sich acht.
***
Please note that all members of the department (incl. secretaries) currently can only be reached via email (before contacting individual staff, please consult our Corona-website and the linked pages of the Prüfungsbüro as well as the university Corona F.A.Q. that should already address many concerns). There are no regular office hours. All HU buildings are closed until further notice (except for libraries that now offer to borrow and return literature at most locations).
All public events are cancelled for now.
Please sign up for the newsletter of the department for regular updated information and take care.
---
ALLGEMEINE INFORMATIONEN/GENERAL INFORMATION
Studierende und Mitarbeiter*innen finden aktuelle Informationen und FAQs hier: hu.berlin/corona
For the most updated regulations and FAQs for students and staff, please visit: hu.berlin/corona
---
PRÜFUNGEN/EXAMS
Laufend aktualisierte Informationen zur Abgabe und Anmeldung von Abschlussarbeiten und Prüfungen entnehmen Sie bitte dieser Seite.
MAPs
Bis auf Weiteres werden keine Präsenzprüfungen durchgeführt. Informationen zur Nachholung von Präsenzprüfungen und Prüfungsformaten werden sobald Maßgaben der Fakultät vorliegen, rechtzeitig kommuniziert.
Hier die aktuellen Informationen unserer Fakultät zu MAPs.
Über das Wie und Wann zur Durchführung von Staatsexamina entscheiden die jeweiligen Prüfungsämter.

THESES & HAUSARBEITEN
Die Abgabefristen für Abschlussarbeiten, Hausarbeiten und andere schriftliche Arbeiten (außer Take-Home-Examen) werden weiterhin bis zur Wiederaufnahme eines regulären Studienbetriebes gehemmt. Abgabefristen laufen also derzeit nicht weiter, so dass Sie mit Wiederaufnahme eines regulären Studienbetriebes, der die Wiederöffnung der Bibliotheken (über den Leihbetreib hinaus) und der PC-Pools umfasst, den vollen Rest der Abgabefrist wahrnehmen können, und Ihnen somit keine Nachteile entstehen.
Eine Abgabe von Hausarbeiten ist selbstverständlich weiterhin möglich, allerdings ausschließlich in elektronischer Form von Ihrem HU-Studierendenaccount und im pdf-Format (inkl. gescannter Selbstständigkeitserklärung) an Ihre*n Prüfer*in. Die Arbeit gilt als eingereicht, wenn der/die Prüfer*in den Eingang bestätigt.
Hier die aktuellen Informationen unserer Fakultät zu Hausarbeiten und Abschlussarbeiten.
***
Latest Updates regarding the submission and registration of theses and exams can be found here.
MAPs
Until further notice no attendance examinations will be held. Information on when and in which formats exams will be rescheduled will follow as soon as the faculty publishes its guidelines.
Here the current information of our faculty about MAPs.
 
THESES & TERM PAPERS
The deadlines for the submission of final theses, term papers and other written work (except take-home exams) will continue to be suspended until students can resume regular study activities. This means that the deadlines are currently not running any longer, so that you can take advantage of the full rest of the deadlines when you resume regular study activities, which include the reopening of the libraries (beyond borrowing and returning literature) and the PC pools, and thus do not suffer any disadvantages.
You can however still submit term papers if you want to. These should only be handed in digitally directly via email from your university email account in PDF format to your course instructor from now on (if you can, please include the signed Selbstständigkeitserklärung as a scan). You will receive confirmation of submission.
Here is the latest information from our faculty on term papers and theses.
---
LEHRE/TEACHING
Bis auf Weiteres wurden alle Präsenzveranstaltungen eingestellt. Online-Formate und andere kreative Möglichkeiten wurden geschaffen, um den Lehrbetrieb in dem erforderlichen Maße aufrecht zu erhalten.
Bitte informieren Sie sich weiterhin regelmäßig über kurzfristige Änderungen über AGNES und checken Sie Ihre HU-Email!
Für die Studierenden, Lehrenden und Beschäftigten soll ein größtmögliches Maß an Verlässlichkeit und Planungssicherheit geboten und zugleich Nachteile, die sich aus einem Sommersemester unter erschwerten Bedingungen ergeben, so weit wie möglich vermieden werden. So können Studierende etwa Prüfungs- und Lehrangebote nach individueller Möglichkeit annehmen und Leistungspunkte erbringen. Das Sommersemester wird nicht auf die Fachstudienzeit angerechnet. Für Studierende, die im Sommersemester nicht alle eingeplanten Lehrveranstaltungen belegen und Prüfungen ableisten konnten, wirkt sich dies bezüglich der Einhaltung der Regelstudienzeit nicht nachteilig aus. Die Hochschulen treffen Vorkehrungen, die die automatische Verschiebung von Regelterminen für kommende Semester sicherstellen.
***
All attendance events have been discontinued until further notice. Online formats and other creative opportunities to keep teaching to the extent necessary and to the extent that this is consistent with the other measures have been started.
Please continue to check AGNES for updates and your HU-email address regularly!

The aim is to offer students, teachers and employees the greatest possible degree of reliability and planning security, while at the same time avoiding the disadvantages that arise from a summer semester under difficult conditions as much as possible. Students can, for example, accept examination and teaching offers according to individual possibilities and earn credit points. The summer semester does not count towards the length of study (Fachstudienzeit). For students who are not able to attend all of the scheduled courses and take exams in the summer semester, this does not have a negative effect on the adherence to the standard period of study. The universities take precautions to ensure the automatic postponement of regular study dates for coming semesters.
---
Student Connectivity - A message from our FSI
Dear AnglAms,
We hope to find you in good health and better spirits in these challenging times!
Even though the digitalisation of most of our seminars has granted us insights into academic subjects as well as our fellow students' apartments, it cannot be denied that there's still something missing - the sometimes lively, sometimes more sober exchange with your peers in the cafeteria, the café ct at UL6 or maybe even just on your way to the next lecture.
In order to make up for these unfavourable conditions at least a bit, we encourage you to join the AnglAm HU Discord-Server. Here you can find people to join your study groups and exchange ideas with you over voice chat, and share your confusion as well as your ideas and knowledge with other AnglAms.
Last but not least, we'd like to remind you of the even brighter side of life - our Discord-Server also offers less formal, exciting digital activities: We will be digitalising our game nights; and thanks to our excessive nerdhood, we will be keeping you inspired and happy with our popcultural recommendations from the Anglophone sphere - while also providing a channel in which we can enjoy said recommendations together.
Best wishes,
Your FSI AnglAm
Please write an E-Mail to the FSI to join the AnglAm HU Discord-Server. Out of privacy and security reasons the link will not be posted here.